The 2020 Subaru Love Promise Customer and Community Commitment Award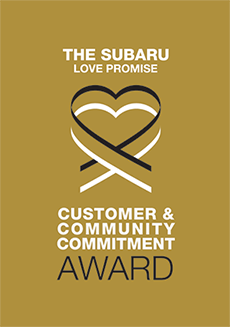 We've been nationally recognized for our dedication to our customers, our community, and the Subaru Love Promise.
We're honored to receive the 2020 Subaru Love Promise Customer and Community Commitment Award. This award nationally recognizes elite Subaru retailers who provide an exceptional customer experience at every interaction with Subaru. These retailers have also demonstrated an outstanding commitment to supporting passions and causes in their local communities in important areas such as the environment, community, health, education, and pets.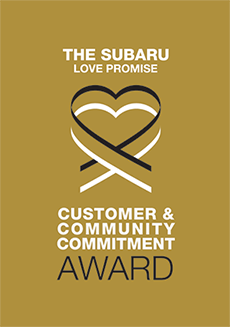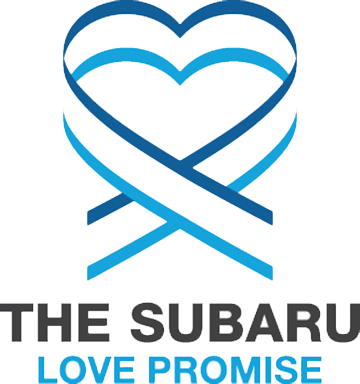 What is the Subaru Love Promise?
Subaru and our retailers believe in making the world a better place and the Subaru Love Promise is our vision of respecting all people. This is our commitment to show love and respect to our customers and to work to make a positive impact in the world.
How is Phil Meador Subaru dedicated locally to the Love Promise?
Our Love Promise can be seen in various partnerships with local charities and non-profits. We're grateful for the opportunity, not only to be a part of our community, but to serve it as well.
Pocatello Environmental Fair, Portneuf Greenway
Every Local School District, Idaho State University
Pebble Ski Patrol, Aid for Friends, Idaho Food Bank, Toys for Tots
Love Promise Stories from Phil Meador Subaru
Subaru and Phil Meador Subaru believe in making a positive impact on the communities in which we live and work. We uphold that belief through our Love Promise Community Commitment. Every month, we select inspiring stories from customers and partners from around our area who strive to support our collective commitment and feature them here
Getting Warm Blankets Out To The Homeless - Brent H
Phil Meador Subaru as part of Subaru Loves to Help and in recognition of National Homeless Youth Awareness Month, Phil Meador Subaru delivered several blankets donated by Subaru of America to Aid For Friends to be distributed. Aid For Friends is a great organization that helps a lot of people here in our community. Thank you to Aid For Friends and Subaru Of America for Sharing The Love.
---
Share the Love With A Veterans Group - Brent H
Phil Meador Subaru along with Subaru of America partnered with Professional Transformation Sports Development during the Subaru share the love event. $12,000 was raised for the group that is dedicated to helping veterans cope with PTSD. The groups founder Russell Davies makes it possible for not only local veterans but veterans from all over the country come and experience so many of the outdoor activities that all of us in Southeast Idaho love. It gives the veterans a chance to succeed and hopefully finding something meaningful that will help them cope. We were so happy to partner with this great group and hope to help them more in the future.
---
Christmas For Foster Kids - Brent H
Phil Meador Subaru donated $500 to Idaho Department of Health and Welfare to sponsor foster children this year for Christmas. The great people who take foster kids into their homes get very little to help with the expense of Christmas. So many times foster children do not get the things they would like for Christmas that many who are not in the system are able to have. With the help of Phil Meador Subaru and many other great sponsor's these great kids will have gifts to open on Christmas day and hopefully big smiles on their faces. We at Phil Meador Subaru were glad to help making sure that as many children as possible have a very Merry Christmas!
---
Subaru Loves Learning Event - Wilcox E
Had a great day at Wilcox Elementary for the Subaru Loves Learning Event! We donated several science books for the kids to read. We thank the teachers for all their hard work and dedication.
---
Subaru Share the Love Event - Brian J
This is a very special event that is very close to our hearts. Every year during Subaru's Share the Love campaign we get to pick a local charity to donate to. This year we chose the Compassion and Hope Pregnancy Center. These folks do outstanding work for young mothers and families. We were able to present them with a check for $10,801. Thanks to all our great customers who bought new Subaru's during the event and chose them for our local charity.!!
---
Messages of Hope - Susie W
This was the second year Pontneuf Medical Center was the recipient of blankets, cards of hope and craft kits from Phil Meador Subaru in Pocatello Idaho. Robb Dye, LCSW, received the delivery for Pontneuf and expressed his gratitude for the continued support from Phil Meador and LLS.
---
Share the Love - Jessica H
We teamed up with Family Services Alliance of SE Idaho as the local hometown charity during Subaru's Share The Love Event. For every lease or purchase of a new vehicle, we donated $250.00 to a charity plus an additional $50 to this local charity. We also had families who receive services through the Family Services Alliance of SE Idaho decorate ornaments and write down what they would like for Christmas. The ornaments were placed on a tree in our customer lounge for customers and employees to purchase gifts for the families that were wrapped and labeled. Those that didn't want to utilize the ornaments could also donate essential supplies to Family Services Alliance of SE Idaho. We had a list of supplies that "Santa" graciously held onto for the months of December and January. We were able to deliver all of the wrapped gifts from every ornament on the tree and the donated items before Christmas to the Family Services Alliance office. The staff was amazing to work with and we're extremely grateful for the amount of gifts the community and fellow employees were able to donate for the special families in our local community!
---
Share the Love Pet Adoption Event - Jessica H
Phil Meador Subaru partnered with Pocatello Animal Services, the Bannock Humane Society, and the ASPCA for a special pet adoption event for Subaru Loves Pets at the dealership on December 10th 2016. There were waived and reduced fees for both dog and cat adoptions with over 50 furry friends ready to be adopted to their forever homes. The community brought in new pet toys, dog snacks, and pet food to stuff a Subaru in our showroom to donate to both animal shelters. Those that adopted received a Christmas stocking filled with toys, treats, a blanket, a new collar, and Subaru swag! All animals also were micro-chipped, spayed/neutered, and received their first set of shots. More than half of the animals were adopted that day and we had a great turn out!
---
Portneuf Valley Environmental Fair - Kevin W
We partnered with the Portneuf Valley Environmental Fair to educate our community about small steps you can take at home, work, and school to improve our local environment. Our booth this year had info. to help educate and encourage the community to partner with us in environmental stewardship. Phil Meador Subaru's way to act on this philosophy is to promote energy conservation and to support wildlife habitat by giving out complimentary evergreen seeds to our customers to plant at home. Evergreens provide winter and summer energy conservation benefits, promote wildlife, remove common pollutants from the air. They can reduce cold winds in the winter and provide shade from the hot sun in the summer. Evergreens also naturally store CO2 as they grow to help offset our carbon footprint. Lastly, they support wildlife by providing food, shelter for birds and other wildlife. Stop in to pick up some evergreen seeds to do your part at home.
---
Subaru Loves Learning Book Drive - Jessica H
Join us in our Subaru Loves Learning initiative during the month of August! We are partnering with the American Association for the Advancement of Science (AAAS) in donating science books to the science department at Pocatello High School. All of the books that will be donated have been recognized by AAAS as some of the best science books in their field. We invite our customers to share the gift of knowledge in partnership with two worthy organizations. By simply signing a customized label for a donated book, taking a customized thank you note home to give to a special teacher or snapping and sharing a photo of the Subaru Loves Learning display at our dealership, you can make a positive impact on the education of young people in our community.
---
We Love to Help/Care for others in our Community! - Jessica H
During Subaru Loves to Care month this June, Phil Meador Subaru teamed up with Portneuf Cancer Center and the Leukemia & Lymphoma Society to give blankets and messages of hope to people battling cancer. It provides much needed support and warmth to patients and their families fighting cancer in our community. Throughout June our dealership had customers fill out messages of hope cards to give to patients at the cancer center. Employees joined in and also filled out messages of hope cards to give to patients. On Friday, July 01, 2016 our Customer Relations Manager and Online Community Manager – Jessica H., with the help of our Social Media Manager - Taylor W., delivered over 30 blankets to the Portneuf Cancer Center along with the messages of hope cards. Robb D, Clinical Social Worker for the cancer center, met them at the center and was present to deliver the first blanket to one of our local cancer patients. She was very appreciative and loved the blanket. "It's rewarding to be able to give back to our community, especially to those that are going through cancer treatment. It's a way to personally tell them that we care and support them."
---
Share the Love - Jessica H
Phil Meador Subaru donated $250 to "My Brother's Table" for every customer (who selected this charity) who bought or leased a new Subaru through January 2nd of 2016. My Brother's Table serves a hot meal to all who come to Trinity Episcopal Church Parish Hall in Pocatello, ID on Sundays between 1:30 and 2:30 pm. This program started in the Fall of 1982 by Franklin and Gloria Cole, and it is the only hot meal offered to all on Sundays in Pocatello. Although Trinity donates the space, kitchen facilities, and energy, it is truly a community outreach program. Volunteer teams of four or more plan the menu, prepare, serve, and clean up each Sunday. Groups represent other area churches, community organizations, and businesses such as Phil Meador Subaru. Food and monetary donations come from both within and outside the parish, from the Idaho Food Bank, as well as from FEMA grants. It is strictly volunteer based and they service about 60 people every Sunday. After the free meal each person gets to take a bag of canned food home with them. The donations we provided helped the organizers and volunteers of My Brother's Table provide meals to the less fortunate in our great community. We want patrons in our area to know that this free service is available every Sunday and that we will continue to do our part to help keep this organization going.
---
Sharing the Love with Aid For Friends Pocatello - Julie R
Aid For Friends extends it heartfelt appreciation to Subaru of America for the "Share the Love" Event and Phil Meador Subaru of Pocatello, Idaho, for selecting our agency as a Hometown Charity. On March 18th employees from the Southeast Idaho Subaru dealership with regional management presented a check of $6,406 to Aid For Friends staff, members of the board of directors and fundraising volunteers. We were simply overwhelmed with gratitude and amazed at the generosity and support of Subaru. These funds will be used to "share the love" to over 450 homeless families or individuals and those in need that our agency serves each year. This contribution will provide safe lodging, warm meals, individualized case management at the emergency shelter and affordable housing opportunities as the clients stabilize their lives. Every single one of those households will be assisted because of this incredible donation from Subaru of America. This is truly a demonstration of how sharing the love impacts the lives of hundreds. BJ Stensland Executive Director Aid For Friends
---
Aid for Friends Event - BJ S
Phil Meador Subaru partnered for the 2014 'Share the Love' event with aid for friends homeless shelter in Pocatello, Idaho. The announcement of aid for friends as a participant in the event was made in an Idaho state journal article for the event and again at their 8th annual aid for friends encampment fundraiser held on December 6th at Caldwell park.
---